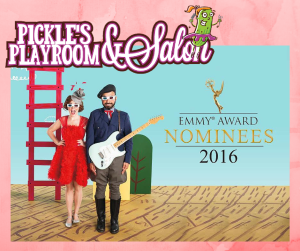 We are extremely proud and honored to be presenting "Lucky Diaz and the Family Jam Band" at Square Roots this year! Square Roots is an annual music festival in our lovely neighborhood (it's one of Momma Pickle's favorite summer festivals!). Here's a little more information about this tremendous bilingual family:
LATIN GRAMMY WINNERS!  EMMY WINNING PERFORMERS!!
Lucky Diaz and the Family Jam Band have been crowned the very first Americans to win a Latin GRAMMY in the Children's Album category!  Garnering six Emmy Nominations and one WIN for their work on the EMMY award winning PBS show 'Friday Zone' with their own TV show "Lishy Lou and Lucky Too" – husband and wife duo Lucky Diaz and Alisha Gaddis have been named 'THE face of kindie music' by the Washington Post, 'SUPERSTARS' by Red Tricycle, 'The Rolling Stones of Kids Music' by the Style Network, and PEOPLE Magazine called their album "The #1 in COOLEST kids music!"   
With two Latin Grammy nominations and one WIN- the band has solidified their place in children's music. Definitely- "children's musician you should know!"- Billboard Magazine 
Their sun-filled pop beats have been featured by NPR's 'All Things Considered,' NPR music, Billboard Magazine, USA Today, New York Times, on Univision, Sprout TV, American Airlines and more! Logging hundreds of thousands of miles, sharing the music of their seven albums, and multiple #1 Sirius XM Kids Place Live hits- Lucky Diaz and the Family Jam Band is on the pulse of all things kids music and brings smart, crafty lyrics with irresistibly fresh pop beats. As Zooglobble states, "It'll take you all of about 15 minutes to become a fan of Lucky Diaz."
We are live on stage at NOON on Sunday, July 10th! Make sure you visit the Pickle's Playroom & Salon booth for some fun activities as well! Exact information and location is found here. (Make sure you especially pay attention to the "North Stage" acts- Little Miss Ann is playing as well!)
See you at Square Roots 2016!